PHE Canada is proud to present the next generation of change-makers in health, fitness and wellness.
As part of the 2015 Student Leadership Conference, through financial support provided by AstraZeneca Canada, participating students had the opportunity to apply for funding to implement Community Action Projects. The goal was to engage youth leaders and equip them to be social and community agents of change in physical and health education and promotion.
This past July, PHE Canada and AstraZeneca proudly announced funding for three successful proposals, with awards of up to $4,000 each to implement their proposals.
"The Community Action Projects are extremely motivating because they give students the opportunity to gain real-world experience, and see their ideas come to life and make a difference in the community," said Brian Storey, President-Elect of PHE Canada.
Community Action Projects had several key objectives:
Engage and equip youth leaders to be social and community agents of change in physical and health education, health promotion and/or wellness.
Make a positive impact in the lives of those of children and youth who are targets of the Community Action Projects.
Provide a vehicle to strengthen and support youth-led change within communities with regard to health and physical activity.
Strengthen partnerships between PHE Canada and regional/local organizations, post-secondary institutions, elementary and secondary schools.
Winning projects
After a year of support from PHE, including reviews of proposals, revisions, and discussions of challenges along the way, the following three proposals received grants to help turn their plans into reality.
Let's Get Moving
Let's Get Moving is a free after-school program for grade 3 to 6 students with low socioeconomic status, aimed at increasing children's physical activity levels and creating an inclusive environment in the community of Morris, Manitoba.
There is currently a lack of affordable physical activity programs for school-aged children in this area. There is also a large population of single parent and immigrant families without adequate income to enrol their children in physical activity programs.
The program ran at the Morris School, from January to May, 2016, on Tuesday and Thursday afternoons, after school. Every week, new activities were introduced that focused on introducing different forms of developmentally appropriate physical activity. Students also received a healthy snack during the program.
There were a total of 42 students who came through the program, with a daily average of between 15 and 20. Due to higher than anticipated registration numbers, the project team hired a second instructor to help run the program.
"One young boy, known to be inactive and have a short attention span, [developed a] regular commitment … he shared how he loved the Let's Get Moving program and said he would look forward to it all day."
Bending/Breaking Barriers
This program is intended to improve the perception of gender stereotypical activities (for example, the idea that only girls take part in yoga) and to promote healthy attitudes and life choices. 
This program ran once a week during lunch hour, over winter and spring of 2016, for students in Grades 6 and 7, at St. Andrew Junior School in Antigonish, Nova Scotia. Before starting the program, the students had discussions about gender stereotypes within sport and physical activity. Then the gymnasium was split in half and students who identified as male learned skills related to yoga and meditation and students who identified as female experienced a variety of 'masculine' activities, such as football and wrestling. At the end of each session, students were invited to gather and reflect on their experience while enjoying a healthy snack.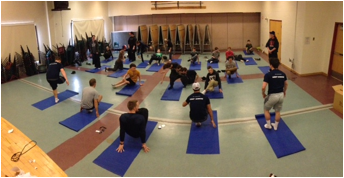 "Initially, we thought once a week would be enough, but to our surprise, students were coming in daily to ask if our program was running at lunch hour. We wish we could have been able to increase the sessions to twice a week."
Washroom Inclusivity Project #PeeInPeace
The aim of this project was to raise awareness about the need for gender-neutral washrooms on the St. Francis Xavier University (STFX) campus, and to create a map of accessible washroom locations. 
With more than 30 volunteers, and working closely with the STFX Students' Union and Mirror Images Media, this awareness campaign developed high recogniation across the campus. The volunteer group they expanded the topic of washroom accessibility through workshops and activities. Organizers also held a training day, during which volunteers were asked to brainstorm ways to assess a washroom's accessibility. Organizers ran seminars, and created posters, shirts and stickers to hand out around campus. They found many students were not aware of the accessibility issues faced by groups and individuals on campus.
Student organizers created a promotional video called #PeeinPeace to spread the word across campus and the community about gender-neutral bathrooms. The video received more than over 100 likes, was shared 17 times and viewed more than 1,100 times on YouTube. A CBC article was also written about the initiative.
This group's end goal is to create a virtual, clickable map of all the washrooms on campus to help students identify which ones are accessible to all genders, to individuals who need ablution facilities, or those who need baby change tables. The group is investigating ways to continue this awareness campaign next school year and is looking at contacting different community businesses to help with sponsorship or grants to run the program again.