Two Cherished Colleagues will be Missed by Many.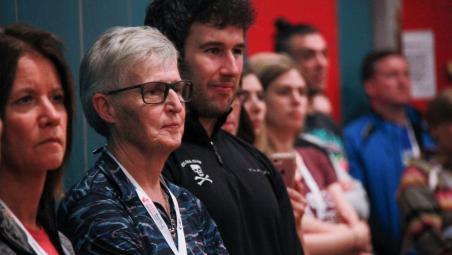 Joy Butler (1957-2019)
Dr. Joy Butler passed away on September 16, 2019.
We will cherish the memory of Joy at our National Conference in Montreal, escorting the candidates to the stage for the R Tait Award – she did this with a great sense of humour, style and passion for our field and PHE Canada.
Joy's contributions to physical education have advanced the field to new levels and we are forever thankful for her accomplishments. With integrity and passion, she advocated and brought TGfU into our work. She has been an inspiration and mentor to PHE Canada and to many physical educators across the country and internationally.
Tribute to Dr. Joy Butler courtesy of UBC's Dean of Education Dr. Blye Frank
Born in Cambridge, England in 1957, Joy did not let the obstacles of class and gender stop her from her mission of making a difference in the world. She was considered a visionary by many who knew her.
As a national basketball coach, she was a trailblazer with the employed methods and programs that she used.
In 1989, Joy moved to the United States where Butler completed her master's degree and doctorate at Boston University.  
After taking up a faculty position at Plymouth State University in New Hampshire, Joy became one of the world's best-known advocates for Teaching Games for Understanding (TGfU). She chaired an international task force for many years.
In her last position as a  professor at the University of British Columbia, Joy collaborated with international colleagues to continue to further the reach of TGfU. She researched ways TGfU can be used to teach democratic skills, which she addressed in her book, "Playing Fair".
Joy practiced what she preached. Diagnosed with stage 4 metastatic breast cancer over five years ago, she exercised daily throughout a long series of debilitating treatments and continued teaching until a few months before her death.
She will be missed by her family, her partner Dr. Claire Robson, her students and colleagues, and her friends in many community circles.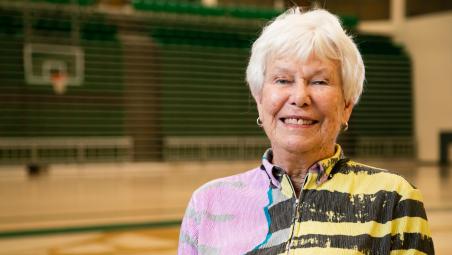 Patricia Lawson (1929–2019)
It is with great sadness that we acknowledge the passing of Patricia (Pat) Lawson. She was CAHPER's 25th President (1984-1985), and PHE's fifth female president.
Tribute to Pat Lawson courtesy of the University of Saskatchewan College of Kinesiology.
Born in Saskatoon in 1929, Patricia was a former faculty member, coach and student-athlete at the University of Saskatchewan.
As a student-athlete, she represented the University of Saskatchewan in 13 teams over four years including basketball, swimming, tennis, and track and field.
Patricia was a member of the Canadian women's basketball team at the 1959 Pan American Games, a seven-time member of the Saskatchewan amateur golf team, and won Canadian titles in basketball, speed skating and golf.
In 1956, she joined the Physical Education faculty at the University of Saskatchewan. She served as a valued teacher, coach and administrator. Pat was appointed Women's Athletic Director, a position she held until 1967. She was a faculty member until she retired in 1990.
Pat earned inductions into the University of Saskatchewan Athletic Wall of Fame, the Saskatoon Sports Hall of Fame and the Saskatchewan Sports Hall of Fame, and most recently, the Canadian Basketball Hall of Fame.
She was also a founding member of the Canadian Association for the Advancement of Women in Sport.